Medium:
Tv Show
Fandom:
90210: Next Generation
Subject:
Annithan, known singularly as Annie and Ethan
Title:
In the Grasp of Dusk & Summer [EP]
Warnings:
Spoilers for 1.1 and 1.2? I guess if you didn't see them don't look
Notes:
This may possibly become an actual fanmix later. I didn't have enough to go on for a whole album at the moment.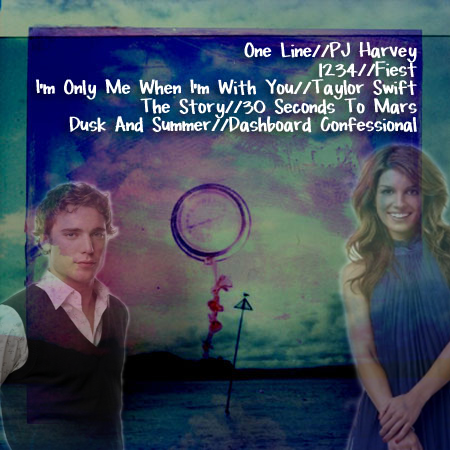 One Line; PJ Harvey
Do you remember the first kiss?
Stars shooting across the sky
To come to such a place as this
You never left my mind

1234; Fiest
Those teenage hopes who have tears in their eyes
Too scared to own up to one little lie
Oh,oh,oh you're changing your heart
Oh, you know who you are

I'm Only Me When I'm With You; Taylor Swift
Well you drive me crazy half the time
The other half I'm only trying
To let you know that what I feel is true
And I'm only me when I'm with you

The Story; 30 Seconds To Mars
This is the story of my life
These are the lies I have created
And I swear to God
I'll find myself in the end

Dusk and Summer; Dashboard Confessional
Days like that should last and last and last
But you've already lost
When you only had barely enough of her to
Hang on, hang on, hang on, hang on to

xx -> tt
CREDIT:
Font: Pea Missy with a Marker by
explore
Background Texture:
noisettee
Annie/Ethan Images: www.cwtv.com