Medium:
TV/Glee
Subject:
Quinn Fabray
Title:
Strange and Beautiful
Warnings:
Takes Quinn through the ups and downs of season one
Notes:
15 songs, approx. 55 minutes. This is a revamp of the mix "Bury the Castle", which I made for Quinn after only four episodes. Having seen her transformation throughout season one, I added some songs, took out some songs, and just generally made this more about her journey from stereotypical cheerleader to so much more. There are songs for both the Quinn/Finn and Quinn/Puck pairings, plus a few songs that work for each, so you can pick who you think it's about. :)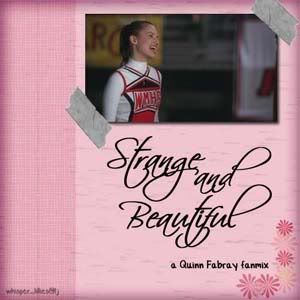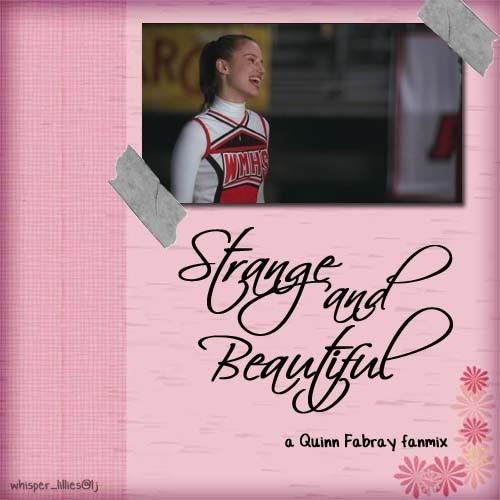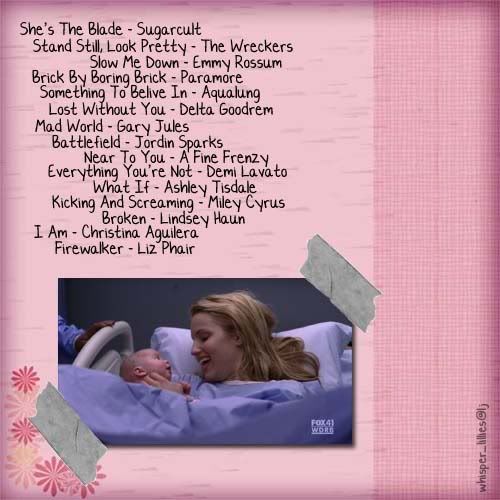 SHE'S THE BLADE/sugarcult
general

Shes the blade and you're the paper
...
Shes the blade and you're just paper
You're afraid cause shes got you closer
She stole everything your heart desired


STAND STILL, LOOK PRETTY/the wreckers
general

You might think it's easy being me
You just stand still, look pretty
Sometimes I find myself shaking
In the middle of the night
And then it hits me and I can't
Even believe this is my life


SLOW ME DOWN/emmy rossum
general/romance

My head and my heart are colliding, chaotic
Pace of the world
I just wish I could stop it
Try to appear like I've got it together
I'm falling apart
Save me
Somebody take my hand, and lead me
Slow me down


BRICK BY BORING BRICK/paramore
general/romance

So one day he found her crying
Coiled up on the dirty ground
Her prince finally came to save her
And the rest you can figure out
But it was a trick
And the clock struck twelve
Well make sure to build your home brick by boring brick
Or the wolf's gonna blow it down


SOMETHING TO BELIEVE IN/aqualung
general

Turn out the light
And what are you left with?
Open up my hands
And find out they're empty
Press my face to the ground
I've gotta find a reason
Just scratching around
For something to believe in


LOST WITHOUT YOU/delta goodrem
Quinn and Finn

All I know is I'm lost without you
I'm not gonna lie
How am I going to be strong without you
I need you by my side
If we ever say we'll never be together
And we end it with goodbye
Don't know what I'd do
I'm lost without you


MAD WORLD/gary jules
general

Went to school and I was very nervous
No one knew me, no one knew me
Tell me teacher, what's my lesson?
Look right through me, look right through me


BATTLEFIELD/jordin sparks
Quinn and Finn/Quinn and Puck

Why is it the smallest things that tear us down
My world's nothing when you don't
I'm not here without a shield
Can't go back now
...
I never meant to start a war


NEAR TO YOU/a fine frenzy
Quinn and your man of choice

Well you and I, it's something different
And I'm enjoying it as cautiously
I'm battle scarred
I am working oh so hard
To get back to who I used to be


EVERYTHING YOU'RE NOT/demi lavato
Quinn and Puck

And I am done with your twisted symphony
The words that had me sound like stolen poetry
I tore the pages and I can finally breathe
Cause all I want is everything you're not
So go ahead and slam the door cause you can't shut me out


WHAT IF/ashley tisdale
Quinn and Finn/Quinn and Puck

But what if I need you baby
Would you even try to save me
Or would you find some lame excuse to never be true
What if I said I loved you
Would you be the one to run to
Or would you watch me walk away without a fight
I'm so sick of worrying that you're gonna quit over anything


KICKING AND SCREAMING/miley cyrus
Quinn and Finn/Quinn and Puck

Don't keep me waiting, anticipating
Treating me like a fool
...
So get down and get off
Let me show you what you'll be missing
We break up, you break down
Gonna drag you through this kicking and screaming


BROKEN/lindsey haun
general

Hitting walls and getting scars
Only makes you who you are
Only makes you who you are
No matter how much your heart is aching
There is beauty in the breaking
When you're broken in a million little pieces
And you're trying but you can't hold on anymore
Every tear falls down for a reason
Don't you stop believing in yourself


I AM/christina aguilera
Quinn and your man of choice

I am temperamental
And I have imperfections
And I am emotional
I am unpredictable
I am naked
I am vulnerable
...
It's not that I'm needy, just need you to see me
Take me, free me, see through to the core of me


FIREWALKER/liz phair
general

I can grow
In spite of all you know
You might not recognize me tomorrow
Yes I can change
In spite of all they say
Become something strange and beautiful
Like joy, like joy

DOWNLOAD HERE
please change xx to tt in new tab

★ Credits:
d-agron.com/gallery
digitalscrapbookplace.com
★ Cross-posted to:
fanmix
glee_tv
gleeclub
mixshare
and
themedmix
to reach maximum audience members. Please don't hate me!
Music::
accomplished